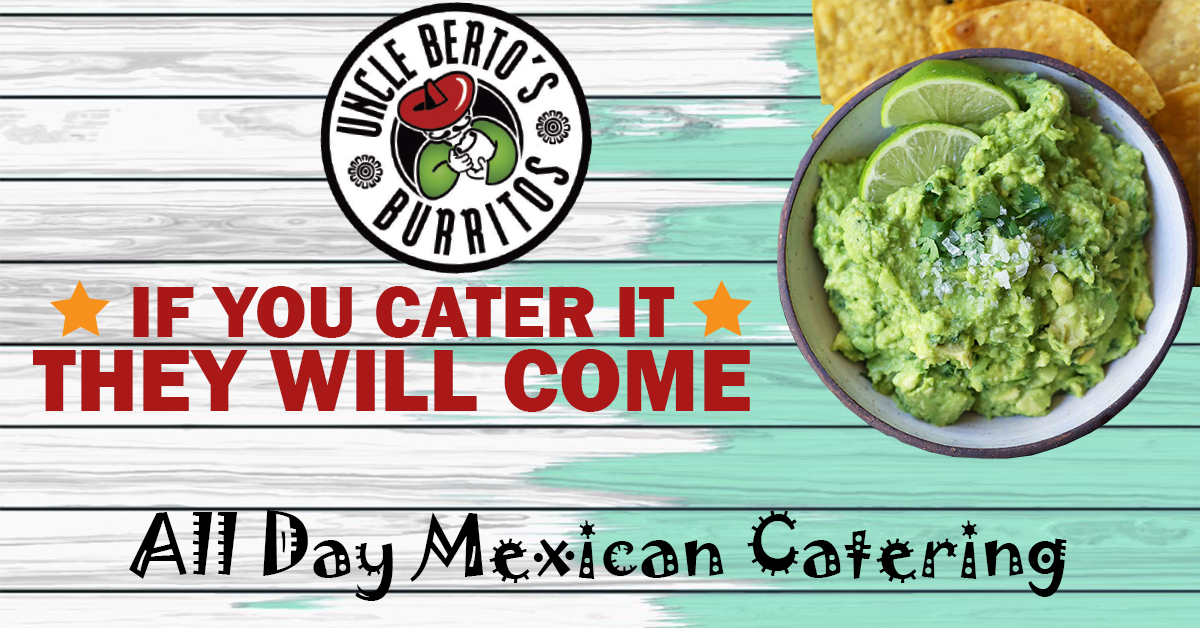 Contact Us for Our Catering Services.
Whether you're hosting a party, business function, tailgate or even a wedding, Uncle Berto's catering has you covered. With a ton of fresh and flavorful ingredients along with free chips, Beans and salsa. And yes we deliver every order so you can have a peace of mind.
Reviews for Uncle Bertos Burritos
★★★★★5.0
Matthew Deweese in Greenville, SC
This place is awesome! We all really enjoyed our food AND the service. The spot is a little small, but is still spacious enough to dine in. Everything about this place is pretty authentic, which makes for a nice environment. The staff was very nice and was excited to help explain anything. I will be back!
★★★★★5.0
Mike Barton in Greenville, SC
First time visit… Seating is limited especially during peak periods… You order and pay at the counter as you enter… Pretty fast service.. Nice size portions..had to take some of ours home… Thought the food was excellent..grilled chicken was delicious. We will return.
★★★★★5.0
Matthew Miktus in Greenville, SC
In the 3yrs we've lived in 5-forks, Uncle Berto's has been the only place that never disappointed us. It's all good. It's reasonably priced. They have a nice beer assortment. What more do you need?
★★★★★5.0
Michael Scholz in Greenville, SC
Stopped at Uncle Berto's Burritos while in transit to my next job. What a gem. The place has authentic Mexican food at reasonable prices, service is quick ans friendly and the Horchata is delicious.
Next time I am back in the area I will eat here again, no questions asked.
★★★★★5.0
Ms. Sabrina Fletcher in Greenville, SC
Great food and service! Service with a smile, will call out your order clear and loud or being it to you if you have your phone stuffed in your face. Has a nice and clean taco bar with many different salsas to try, pico de gallo, black bean salsa, marinated onions and green peppers, nicely done! They provide to go serving cups for the fixings. Open kitchen is clean and presentable. They speak English and Spanish, so don't be afraid to enter! Meanu is clear and colorful as well as the decor. Inside seating and outdoor. Soft drinks, water, jarritos, Mexican beer as well like Corona and Modelo!
★★★★★5.0
Jeannie Crawford in Five Forks, SC
My family just moved to SC from CA and as such enjoy authentic Mexican food. We had a favorite take out restaurant and knew we were going to miss them. So when we arrived we started searching for a good replacement for our favorite. I found a listing for Uncle Bertos Burritos and saw they have really good reviews. And after having a wonderful dinner with great service I'm adding my 5 stars to the reviews. Authentic Mexican food with a great salsa bar…and friendly service too! Our house is in Easley, but we will be back to enjoy our new favorite …. Uncle Bertos. Excuse me…I just made myself really hungry…and I know where I'm going…